Information on Restaurants in Pune – Greens & Olives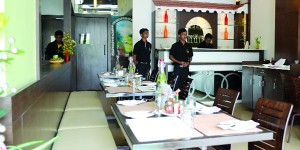 Description :  Greens and Olives is one of the finest places in Pune for vegetarians. Though the setting or ambience is not that great and adorable as compared to other restaurants, but the decorating and the set up of it is well made. Coming to the food the variety offered by them will definitely put you on the fence what to order and what to leave, though Italian plus a lasagne the main course is among the best of all that are served but the sizzlers pasta, risotto is something you must try. It's not only the food that will attract you but even the quantity offered is better than any other Italian restaurant in Pune. Service rendered is good and pretty decent and worth spending your penny at this restaurant, the desert and the food both are luscious. Few of the draw backs of the restaurant are that bar is not available and the seating arrangement are very close to each other which make things difficult and maintaining privacy gets really hard, food varieties are limited to veg only they don't serve non-veg so the option for food gets limited. But the restaurant is a nice place to visit with family and spend time.
Phone No: 020 3057 0433 ext 525
Address: New Dhole Patil Road. Opposite Tangent Furniture. Aundh. Pune.
Working Hours: 11AM- 3PM. 7PM-11PM.